Last night I went to The Marquee Club to see a friend's band lovingly entitled The Feeling. It should be noted that The Marquee is no longer the world famous venue in Charing Cross Road where some of the biggest bands of the sixties and seventies played as this had some years ago become a Wetherspoons public house. Although the no doubt structurally important pillar I once saw a couple use as a prop to shag each other whilst the club was full remains, albeit with a new coat of paint.
The old Marquee was great...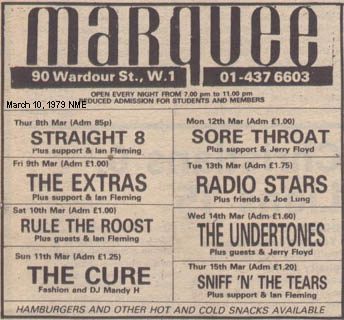 No, this was a venue in Leicester Square which has no doubt taken the famous name in order to increase its standing in the city. So much so in fact that being on the guest list apparently still doesn't get one in for free. Bah.
I've known Dan, the lead singer of The Feeling, since he was knee high to a grasshopper - which is very small indeed.
I hadn't seen The Feeling for nearly a year and a half but I had obtained a CD of their tunes last March and took it with me travelling - and mightily impressive it was too. In the desire to accumulate as much money as possible for travelling I had purchased virtually no new music for months so it was a welcome addition to the collection of CD's I took to S.E. Asia with me. As my plane flew into Bangkok International Airport at the start of my trip I had "Kettle On" playing in my ears - quite against the usual avian advice to switch off electrical equipment on descent. "I'm coming home" Dan crooned - quite contrary to the situation I was in but seemingly appropriate nevertheless.
The music became a genuine sound track to much of my trip. Listening to some of the songs again I am reminded of a guesthouse room in Thailand's Koh Phangan and waiting for a bus whilst passing through Australia's Bundaberg (and needing cheering up as I had that morning said goodbye to a wonderful group of people I had befriended). And their songs are rally top quality.
"They've got an army of teeny boppers now" my friend James, Dan's brother, informed me. And so it was true. When they came on the dance floor packed itself out and in front of me was an army of trendy-types singing along to every word. I knew they were trendy (and I freely admit that is a word my mother uses) because they all had ridiculous 1980's haircuts. As did Richard the band's bassist.
And it is possibly because of Richard that all the people were there. For he is boyfriend to cat-like being Sofie Ellis-Bextor who was there at the front. Plus her mum the goddess like Janet Ellis - of Blue Peter fame - was there too. And I am reliably informed that it isn't the patronage of a best selling pop singer that has bought along these masses but rather the encouragement of Ms Ellis who must have some maternal influence on them all. Regardless it was a good gig.
Luckily I was wearing my Blue Peter badge.